Who doesn't crave a toned and fit body?
You hit the gym and follow a healthy diet and lifestyle, but the stubborn fat on some parts of your body refuses to vanish. Does this sound familiar? Worry not, there is a solution to get rid of this unwanted fat – cavitation machines. In this article, we have compiled a list of the 10 best cavitation machines that can help you get the sculpted body of your dreams. Read on to know more about a cavitation machine and how it can help.
What Is An Ultrasonic Cavitation Machine? How Does It Work?
Ultrasonic cavitation machines are non-invasive and pain-free devices that give you a toned and sculpted body. These machines use high-frequency heat and sound waves that penetrate your skin to break down the fat cells.
When the machine is rubbed on your skin, it heats and vibrates the fat cells beneath the skin's surface. Once the fat is released, it decomposes and is excreted naturally by the liver through the lymphatic system.
The machine creates air bubbles between the fat cells, and these bubbles break down the cells with the pressure.
Isn't it interesting how the product works? Now, let's check out the amazing benefits of cavitation machines.
Benefits Of Cavitation Machine
Ultrasonic cavitation machines can help you in a number of ways:
Cavitation machines are incredibly affordable.
They are pain-free and non-invasive.
They do not burn your skin.
What They Do To Your Body
Tighten the skin
Shape your body
Help in cellulite reduction
Aid weight loss
Improve blood circulation
Even out your skin
Facial toning and lightening
Reduce wrinkles, fine lines, and eye bags
Improve skin elasticity
Offer deep tissue massage
Let's now check out the 10 best cavitation machines available on the market.
10 Best Cavitation Machines To Buy In 2019
1. Beauty Star Mini RF Radio Frequency Facial Beauty Machine For Skin Rejuvenation, Tightening, Wrinkle Removal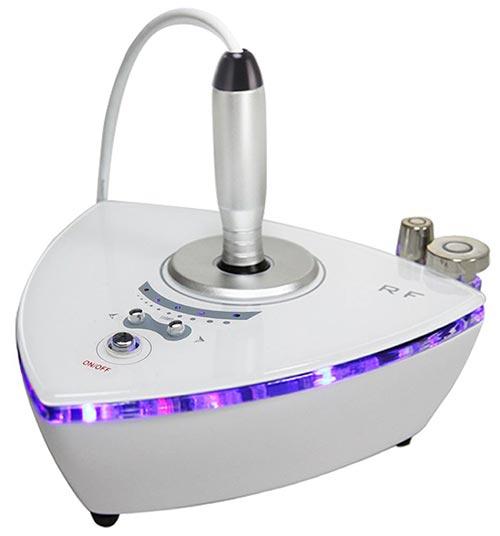 This device is easy to use, portable, and cost-effective. It reshapes the outline of your face and tightens the skin. It increases blood circulation, stimulates collagen (a group of cells that connects muscles, bones, and tissues) and increases skin flexibility. This radio frequency cavitation machine helps smooth and improve your skin for a younger-looking appearance. It works on all skin types, on or off the face. The device heats up the collagen layers of your skin to remodel the existing collagen. This helps to generate new collagen, which improves the texture of the skin. It treats fine lines and wrinkles on the face and body, including the neck, hands, around the eyes, thighs, tummy, and buttocks.
Pros
Simple and easy to use
Reduces the appearance of cellulite
Heats up to 140o F
Evens out the skin
Bipolar RF applicator
Cons
None
Rating
4.7/5
2. Wanforjewellery 40K RF Cavitation Ultrasonic Beauty Machine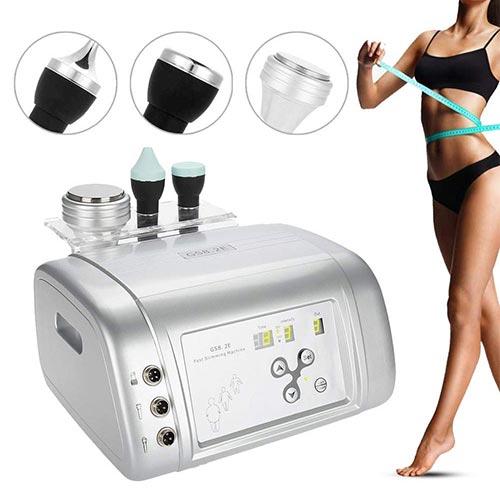 This professional RF cavitation machine is equipped with three heads for different body parts. It is a 40k cavitation cellulite fat remover that helps dissolve fat immediately. This slimming machine improves blood circulation, accelerates melting of fat, and ensures to sculpt your body by slimming it down. It can also eliminate facial wrinkles, freckles, and dark circles. It lightens your skin tone, smoothes eye wrinkles, eliminates excess cellulite, evens out the skin, and reduces pores. The machine comes with a time-lapse feature and switches off automatically when the set time is completed.
Pros
Has pulse wave options
Regulates output sensitivity
Has a pause button
Promotes metabolism
Cons
None
Rating
4.7/5
3. NSWD 40K RF Cellulite Removal Fat Loss Cavitation Machine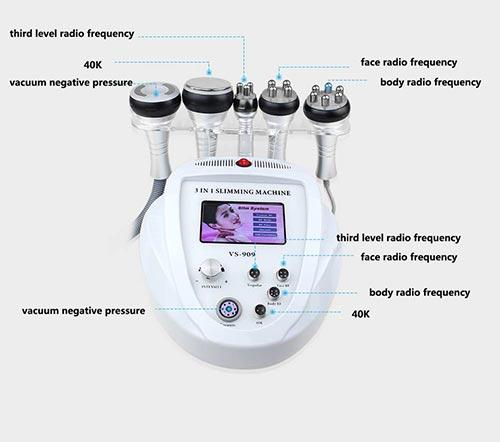 This vacuum cavitation machine dissolves fat and tightens the skin. It reduces the multiplication of fat cells and eliminates them. This slimming device firms the arms, legs, thighs, buttocks, neck, waist, back, and abdominal muscles. Overall, it reshapes your body and molds the face shape by firming, lifting, and compacting the skin. It also relieves stress and removes fatigue by promoting the mechanical aerobic exercise of skin tissue. This helps reduce pain and stress instantly. It circulates and activates the cells to generate collagen and elastic fibers that improve facial and body skin.
Pros
Reshapes body and face
Promotes the metabolism of tissues
Repairs damaged skin
Lightens skin tone
Cons
Rating
4.6/5
4. TTSTR 6 In 1 Multifunction Body Slimming Cavitation Treatment Machine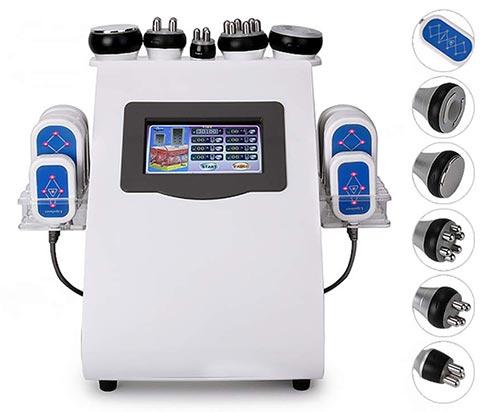 This 6-In-1 Multifunction Body Slimming Cavitation Treatment Machine is an easy-to-use device with zero negative side effects. The 40 kHZ ultrasonic hand can be used on the belly or legs to break the fat cells. The vacuum RF hand sucks the fat, and the multipolar RF melts it, increasing collagen production to tighten the skin. This device is ideal for weight loss, body shaping, blood circulation, promotion of metabolism, and firming the skin. You have a separate RF probe for the eyes that helps eliminate wrinkles and eye bags. The kit includes laser pads, an RF vacuum probe, a cavitation probe, an RF body probe, a facial RF probe, and an eye RF probe.
Pros
No scarring or discoloration
No thermal damage
No pain or discomfort
Quick results
Cons
Rating
4.5/5
5. Jeune Essentials Portable 5 in 1 Ultrasonic Cavitation Fat Removal Body Shaping Machine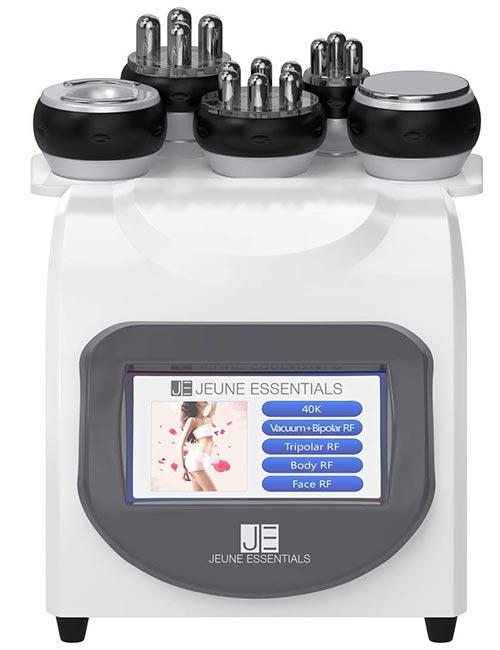 Sculpt your body using this advanced home ultrasonic cavitation fat removal machine. It helps penetrate the fat cells by using RF energy on a specific area. You can glide the ultrasonic wands over any part of your body for even and younger looking skin. This device sends low-frequency radio waves underneath your skin that create tiny cavities between fat cells. This will cause the cells to break up and disappear, removing all the dissolved particles through the lymphatic system.
Pros
Pain-free
Very relaxing
Lightweight and portable
Cost-effective
Cons
Rating
4.5/5
6. Beauty Star 7 IN 1 Ultrasound Cavitation EMS Body Slimming Massager 3 Color LED Photon Ultrasonic Therapy Anti Cellulite Machine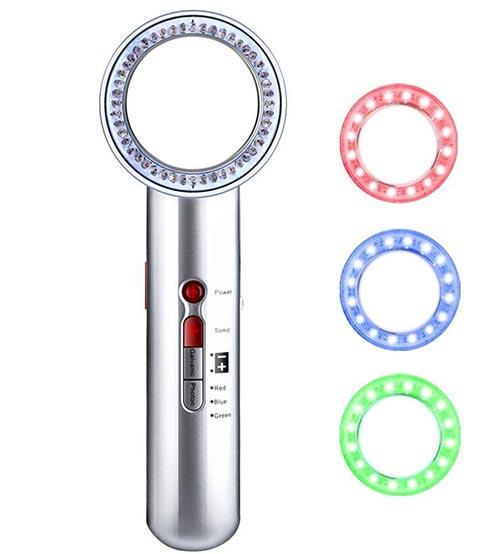 This ultrasonic cavitation machine dissolves the fat and tightens your skin. The infrared ray restores elasticity and activates the cells thoroughly. The positive and negative ions emitted during the heating process deeply cleanse and nourish your skin. The five modes of EMS allow you to select the intensity levels. The blue, green, and red LED Photons have different wavelengths with different functions each – 467+-5nm, 525+-5nm, and 622+-5nm. The kit also consists of TENS/EMS massage units that can stimulate the muscle movement to burn fat.
Pros
Comes with a pair of gloves
Removes dark spots, acne, dark circles, and scars
Enhances skin texture
Eliminates wrinkles and eye bags
Cons
Rating
4.4/5
7. CMYZ RF LED Ultrasonic Body Slimming Massager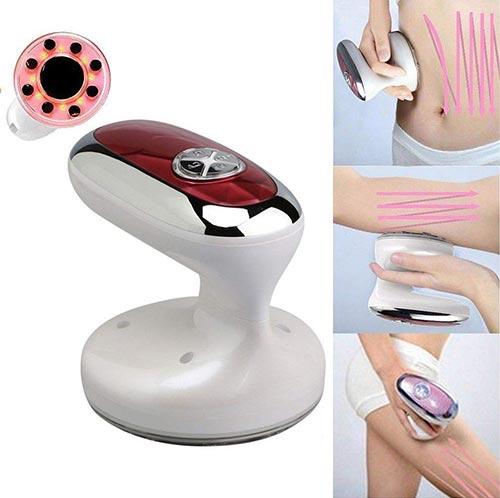 This ultrasonic cavitation machine can be used only on the front arm, belly, upper leg, back waist, and hips. It has three functions – RF, ultrasonic cavitation, and LED that can be used separately or in combination. This device vibrates fat to eliminate edema, tightens the skin and prevents it from aging, and dissipates fatigue. The mechanical vibration helps massage the affected area to black and break fat. The RF shrinks collagen, speeds up metabolism, and thickens the dermis to provide support to the skin's surface. The LED color light rejuvenation of wavelength 625 nm improves cell activity and gives you a clear and even complexion.
Pros
Easy to use
Removes scars and cellulite
Promotes metabolism
Improves sleep
Cons
Cannot be used on all body parts, like the face or neck
Rating
4.3/5
8. Beauty AGL Body Slimming RF Fat Removal Cavitation Beauty Machine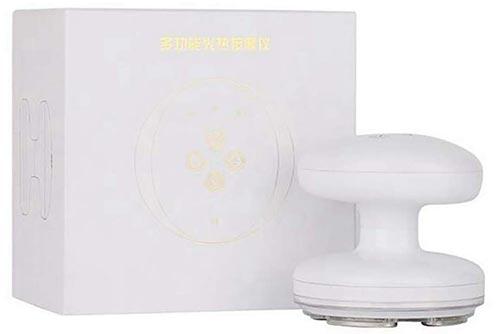 This multi-functional massager contours your body in a single step. It reduces stubborn fat and tones your body by tightening the skin. It targets fatty areas that include the abdomen, upper arms, thighs and saddlebags, buttocks, side knees, and inner knees. This pulse massager emits heat that penetrates the targeted area, warms the body, and burns the fat. The high frequency 2000 mechanical vibrations per second help rub the fat cells against each other, burn, and decompose. This healthy shaping does not rebound.
Pros
Easy to carry
Cost-effective
Relieves tension in the body
Subtle heat
Cons
Takes multiple sittings for effective results
Rating
4.3/5
9. Ostune Portable Body Slimming Fat Professional Cavitation Machine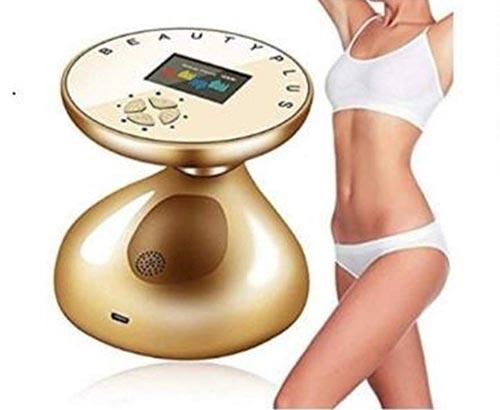 This cavitation machine provides cell massage, enhances cell function, and increases its vitality. It promotes blood circulation and improves the nutrition of the skin, keeping it soft and glowing. The ultrasonic wave breaks up the fat mass and lymph, dispels toxins, and boosts metabolism. The thermal effect of the ultrasonic wave reduces the cell's excitement and has an analgesic effect on your skin, relieving pain and uneasiness. The metal tip emits RF of 6 million vibrations per second. This will shrink collagen and tighten the skin, eliminating wrinkles and toning the skin's surface. The red LED with 625 nm wavelength enhances cell metabolism, making your skin soft and smooth.
Pros
Portable
Improves skin texture
Reduces weight
Can be used on the arms, legs, waist, hips, belly, and calves
Cons
Rating
4.3/5
10. Slimco Dermapeel Ultrasonic Slimming Beauty Machine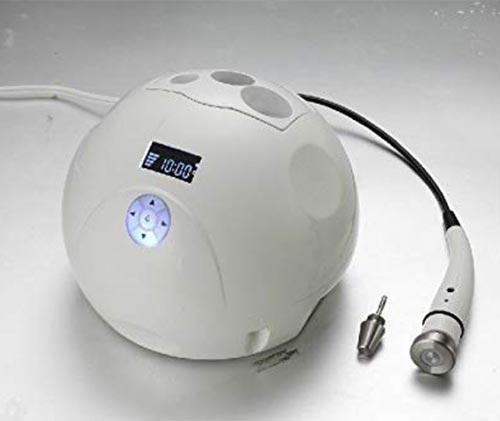 This lightweight ultrasonic cavitation machine removes fat and cellulite from different areas. Using RF technology, this device breaks up fat tissues into tiny particles that can be omitted with ease. This pain-free method takes just 50 minutes per sitting. By rubbing the remote around the affected area, you will activate the excess fat that will eventually subside. This machine works only with ultrasonic gel.
Pros
Pain-free process
Tones your body
Burns calories
Can be used on the abdomen, hips, inner thighs, and arms
Cons
Requires multiple sittings
Rating
4.2/5
These are the best 10 cavitation machines for fat burning and body sculpting. Here are some points you need to consider while selecting a cavitation machine.
Things To Consider Before Buying A Cavitation Machine
Before buying a cavitation machine, you should take into account the following points:
Features
Treatment duration
Size
RF
Price
Some expensive machines come with Quadrupolar 3D RF, color LEDs, TENS/EMS massager, gloves, facial and eye probes, and other special attachments. Though not all machines come with these tools, ensure to buy one that comes with the features that you need or suits your body type.
While some ultrasonic cavitation sessions take 30 minutes, some may only take 15 minutes. Also, you need to know the credibility of using these machines, i.e., usage limit per week and day. Most cavitation machines are designed to be used thrice a week, but there are some that can be used every day.
Cavitation machines come in different sizes. There are tiny and portable devices, medium-sized 4-in-1 cavitation machines, and big or complex models. The bigger the device, the more the price. Choose a device that fits your ultimate goal. If you are someone who travels regularly, select a single-probe (head) cavitation machine.
This is the most important feature to look for in a cavitation machine. The greater the RF, the higher the intensity of the treatment. Usually, 7-in-1 complex cavitation machines have higher RF than portable ones. Those seeking quick results can use devices with high RF. It helps tone your body, slim down fat areas, and sculpt extra inches in just a few sittings. Those seeking for slight changes in their skin can opt for low RF machines.
Most cavitation machines that have special features, extra tools, and high-quality material cost a bomb. Therefore, consider your budget and evaluate it with your need before buying the device.
How safe are these machines? Scroll down for the answer.
Is Ultrasonic Cavitation Safe?
Although ultrasonic cavitation is a pain-free, non-invasive, and non-surgical procedure, there are very slight chances of skin burns. During the treatment, you can feel some warmth due to the high-frequency heat waves. This may last until a day.
Also, for people with liver issues, this process may not be 100% successful as the organ needs to function well to lose the decomposed fat.
Here are some tips for maximum results.
Tips To Follow While Using A Cavitation Machine
Go through the manual and read the instructions thoroughly before you begin.
Drink plenty of water before and after the treatment.
Avoid alcohol, coffee, and aerated beverages after the treatment.
Stick to a strict and healthy diet with low carbs.
Consult a doctor if you have any chronic or skin disease.
This process is a complete no-no for pregnant women.
Always use a cavitation gel when using this device to avoid burns.
Take inches as a unit of mass.
Results
Final Thoughts…
There are a whole lot of anti-aging products out there in the market, but if you want to rejuvenate the appearance of your skin, this product can be a good bet. If you are looking forward to purchasing this product, ensure to maintain a healthy diet for maximum effects.
Now that you know the best cavitation machines available on the market right now, quickly click on your favorite product, try it out and let us know how it worked for you by commenting below.
The post 10 Best Cavitation Machines For Fat Burning And Body Sculpting appeared first on STYLECRAZE.